Winter Light | A ROSE & IVY Holiday Table Setting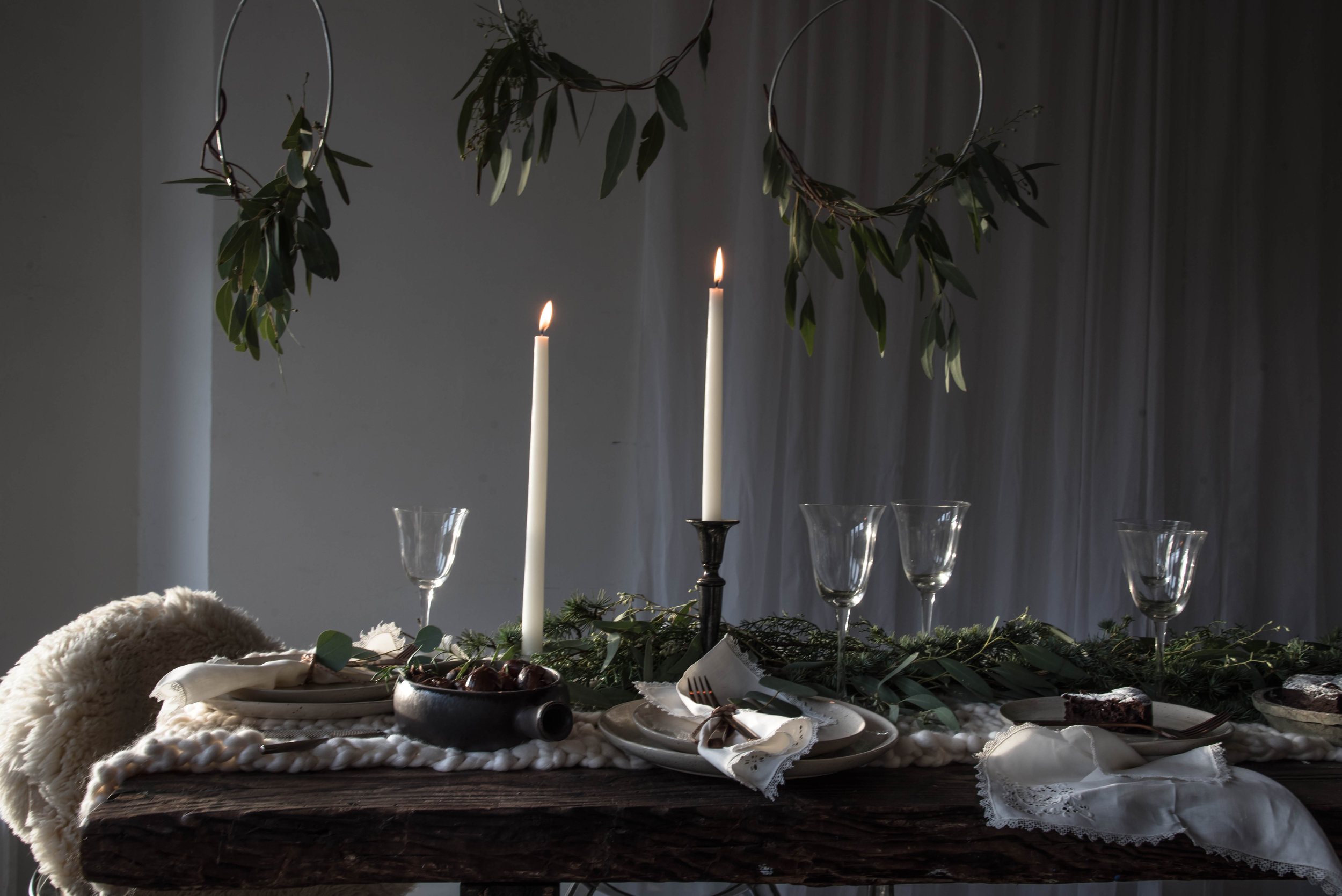 There is something so inviting about winter light. It casts a soft glow onto whatever it touches and beckons time to be spent feeling cozy indoors or enjoying the shorter days outdoors until the last light lingers. For this table setting we were inspired by a moody Nordic ambiance, where textures of wool and sheepskins combined with a bit of the outdoors in the form of various green branches. We teamed up with Botanica Inc., a wonderful New York City based floral design studio founded by Bob Mihalik and Les Newman, who create dream-like settings for various events around Manhattan from weddings to soirees at Lincoln Center. They incorporated nature with branches of juniper, flat seeded eucalyptus and fragrant blue Atlas cedar. Keeping with the Scandinavian theme, we created a simple wreath to hand from the ceiling, by using gold macrame rings with loosely tied flat seeded eucalyptus, which gently wrapped around each circle. Read on for credits and some additional recipe ideas.
Also a very special thank you to Brett Grau for lending her amazing web talents!
A glimpse of the past by incorporating vintage lace napkins, which you can find on Etsy or thrift shops. We tucked West Elm's copper flatware inside and tied it together with a faux leather braided cord in the perfect shade of peachy beige.
Dark Chocolate Flourless Peppermint Cake, recipe here.
Roasted Chesnuts, recipe here
An inexpensive serving idea, display your desserts on clay pot bases. Scrub thoroughly with soap and water, let dry and add a layer of parchment paper underneath. This option is available at Jamali Garden.
A very special thanks to Botanica Inc.
Photography by Alison Engstrom | Styling by Alison Engstrom & Monica Picca